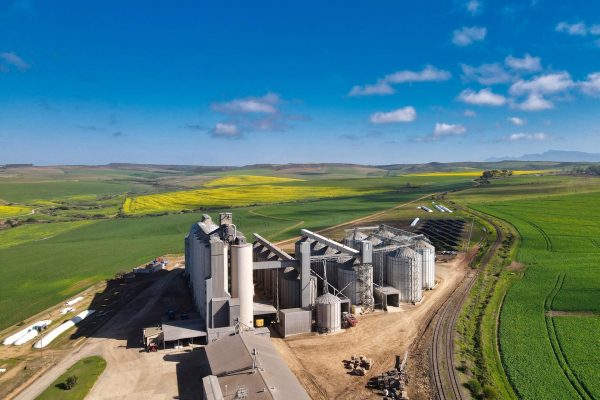 The 9 silo complexes at SSK (Swellendam / Heidelberg / Krombeksrivier / Protem / Karringmelksrivier / Ashton / Riversdale / Albertinia / Herold and the depot at Kleinberg) have a total fixed storage capacity of approximately 320 000 ton and temporary storage capacity in the form of silo bag depots of approximately 120 000 ton.
SSK also has alternative methods of storing grain as a short-term storage solution.
We receive, store and dispatch wheat, malting barley, feed barley, oats, and canola, maize, triticale, and coriander seeds.
Our silos are fully equipped with modern equipment to render a professional service to both our clients and members.
Grading – by qualified personnel

Weighing – Accredited and certified weigh bridges

Grain Drying – Modern dryers

Grain ventilation – Ability to store grain at a higher moisture content

Grain Cleaning – Normal and gravitational cleaners

Fumigation – by qualified personnel

Bagging – from 50 kg to 1000kg bags
All silo facilities are easily accessible from the main roads, and most have certified and operational sidings (except Krombeks, Herold Silos and Kleinberg Depot).
Each and every silo is listed with SAFEX (Excluding Herold Silo and Kleinberg Depot).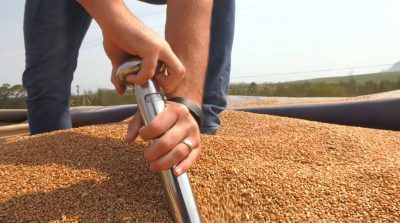 Operations Manager: Grain
T 028-514 8944
Business Hours
Mon – Thu: 07:30 – 13:00 & 14:00 – 17:00
Fri: 07:30 – 13:00 & 13:30 – 17:00
Sat – Sun: Closed
Operations Manager: Logistics and Inventory
T 028-514 8942
Business Hours
Mon – Thu: 07:30 – 13:00 & 14:00 – 17:00
Fri: 07:30 – 13:00 & 13:30 – 17:00
Sat – Sun: Closed
Silo Albertinia
Nywerheids Ave
T 028-735 2639
E silo.albertinia@ssk.co.za
Siding No n/a
Business Hours
Mon – Fri: 07:30 – 13:00 & 14:00 – 16:30
Sat – Sun: Closed
Silo Ashton
Robertson Road, Ashton Industrial Area
T 028-514 8696
E silo.ashton@ssk.co.za
Siding No 147842
Business Hours
Mon – Fri: 07:30 – 13:00 & 14:00 – 17:00
Sat – Sun: Closed
Silo Heidelberg
Markstraat, Heidelberg
T 028-514 8741
E silo.heidelberg@ssk.co.za
Siding No 141858
Business Hours
Mon – Fri: 07:30 – 13:00 & 14:00 – 17:00
Sat: 08:00 – 12:00
Sun: Closed
Silo Herold
Main Road
T 044-888 1626
E silo.herold@ssk.co.za
Siding No n/a
Business Hours
Mon – Thu: 07:30 – 13:00 & 14:00 – 16:30
Fri: 07:30 – 13:00 & 13:30 – 16:00
Sat – Sun: Closed
Silo Karringmelk
Farm Karringmelksrivier
T 028-514 8695
E silo.karringmelks@ssk.co.za
Siding No 141836
Business Hours
Mon – Fri: 07:30 – 13:00 & 14:00 – 17:00
Sat: 08:00 – 12:00
Sun: Closed
Silo Krombeksrivier
–
T 028-514 8950
E silo.krombeks@ssk.co.za
Siding No n/a
Business Hours
Mon – Fri: 07:30 – 13:00 & 14:00 – 17:00
Sat – Sun: Closed
Silo Protem
Farm Protem
T 028-514 8697
E silo.protem@ssk.co.za
Siding No 143995
Business Hours
Mon – Fri: 07:30 – 13:00 & 14:00 – 17:00
Sat – Sun: Closed
Silo Riversdale
Ladysmith Road
T 028-713 4942
E silo.riversdal@ssk.co.za
Siding No 147842
Business Hours
Mon – Fri: 07:30 – 13:00 & 14:00 – 16:30
Sat – Sun: Closed
Silo Swellendam
Koringland Street, Swellendam Industrial Area
T 028-514 8678
E silo.swellendam@ssk.co.za
Siding No 144525
Business Hours
Mon – Fri: 07:30 – 13:00 & 14:00 – 17:00
Sat: 08:00 – 12:00
Sun: Closed